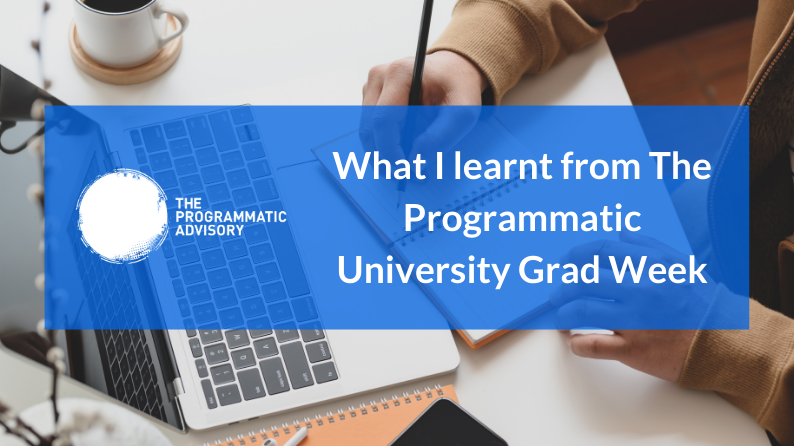 I'm Ella, and in May I attended The Programmatic University Grad Week. Grad Week is a 5 day training program to help ready graduates for the real world of the digital marketing industry. The team at The Programmatic University asked if I could answer a few questions to help others better understand the program, so here is that blog!
What did Grad Week cover?
What is Digital Marketing?
We began with the basics: what is digital marketing!? This course built upon my existing knowledge very well as I have had work experience roles in marketing teams before.. This hour session provided an overview of the history of Digital Marketing: exploring traditional purchase intentions within the conversion funnel to modern RTB ad buying.
How Do Ads Get Served Online?
The next course was packed full of knowledge! Firstly we explored all the different types of ad formats; from instream pre-roll ads to bespoke placements. Next, we discovered how each of these ads are served and managed after the placements are selected.
However, I felt the most useful piece of information I learnt on this course was the in-depth step-by-step run through of the life of an ad call. This was set out clearly and explained in such a way that made such a complicated process feel much more simple!
How Do I Measure a Campaign?
Our third course explained the key measurement forms that are involved in programmatic campaigns. We explored the key challenges with changing digital media consumption and how this has developed campaign measurements, attribution models and KPIs. We further learnt which attribution models aligned with what channels.
What Are The Components In Getting A Campaign Live?
With this course the trainer gave an in depth overview of each component to setting a campaign live within a DSP. My favourite part of this course was understanding the planning fundamentals to the campaign itself: investigating how audience insights can be used alongside other planning factors in order to construct the perfect programmatic campaign.
How to apply for a job in the industry
The week ended with an understanding of finer details of the programmatic industry itself. This course was led by The Programmatic University's founder, Wayne, and it was very valuable to learn from someone who has great experience and knowledge across different parts of the industry.
He explained the wide range of agencies intertwined within the industry and the different job roles involved within this. Finishing off the week with interview considerations, hints and tips allowed us to put all our knowledge into context and have a think about where we fit into the ever-growing programmatic industry!
How was this course very different from other online courses you have taken part in?
As these courses were conducted in a 'live' situation, I felt it was very unique. Although online courses give you an excellent self-guided form of learning, I believe that these courses being conducted over Zoom were extremely helpful to the learning process. We were able to ask questions and also take part in quizzes to test our knowledge: something that standard online courses don't offer you.
However, this course also developed a self-guided style as well as we were given access to the course recording and powerpoint after it had finished. This allowed us to read and look through them afterwards. We were also given a fact sheet so we could understand and contextualise our knowledge further.
Why should grads join this course?
I believe that this five day program is beneficial for all grads, despite any prior knowledge they may have. The basic fundamentals of programmatic are explored, which allows excellent building blocks for more advanced learning in the future. The course also provided the next steps and key networking skills and tips for job interviews.
At the end of the week, with lots more knowledge under my belt and a deeper understanding of the industry, it made me very optimistic surrounding my future in programmatic!