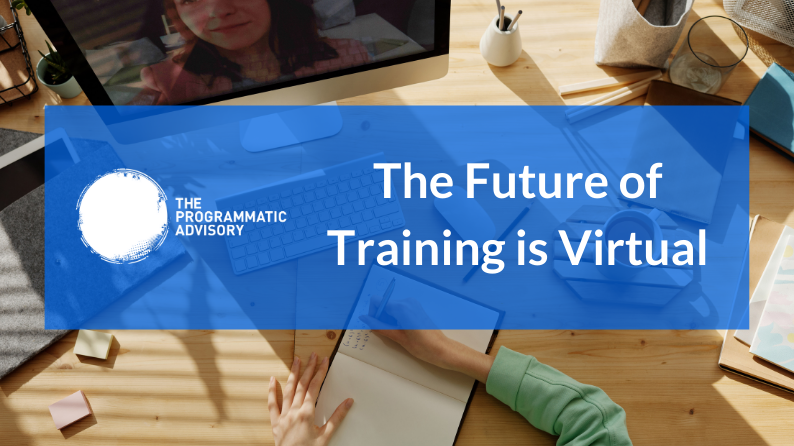 Virtual training has shown significant growth over the last decade as the expansion of online education has been able to provide companies and learners with the opportunity to develop a wide range of skills. Further, since the COVID-19 outbreak, virtual learning has become even more centric in learner's lives as it has become the cornerstone of modern education and the 'new normal'.
Businesses are having to quickly learn how to take on digital methods for training and development even more broadly than before. On the other hand, learners are frequently finding themselves having more time to develop their skills. Whether this is due to the furlough system, or even bridging the gap between higher education and grad jobs, online course providers are seeing rapid change in subscriptions and interests for courses.
Virtual learning has never been more important than it is today! That, in itself, has prompted many to think about the ultimate impact of the pandemic on the future of education. In this blog, we'll take a further look into how training is dramatically changing from classroom-based to virtual-based and how companies and learners alike are adapting to this 'new normal'.
Positives to virtual training
There are many reasons why virtual training is so popular and why it works so well for learners. Not only has it been the biggest factor of supporting learning throughout the COVID-19 pandemic, but virtual learning technology has broken boundaries and redefined what was thought possible in the world of education.
Classroom training has begun to decrease in popularity over the years due to the amount of information that is presented in such a short amount of time, making it harder for learners to retain the information. To overcome this barrier, virtual training instead allows shorter, more bitesize chunks of information. Therefore, it automatically takes away the time constraints on how quickly or slowly material is presented as learners get to decide how much they want to learn and fit this around their busy schedules. Furthermore, a recent study by the Research Institute of America showed that virtual training has a retention rate of 25% to 60%, whereas classroom training has only 8-10%. This staggering difference aligns to the control of the learning process that the learners have by being able to access this training whenever needed.
Virtual learning also utilises a great range of media; from video-based interactive learning (what we often use at The Programmatic University) to academic articles. Learners are therefore given much more control to learn in ways that suit them and are more personalised to their style of learning.
The Modern Learner
Alongside the shift from classroom-based learning to virtual learning, learners themselves have changed the ways they want to consume education itself.
A new learner has developed, otherwise known as the 'Modern Learner'. They are seen to be modern-day professionals who are keen to learn in order to perform better and more productively to lead to further job progression. They're generally very busy and overwhelmed by workload, but long for further performance training to empower them with more development opportunities.
This is where virtual training steps in. 55% of modern learners desire personalised learning and virtual training can give them this experience as it provides easy-to-find, personalised and fit-for-purpose learning.
How companies and learners are adapting to the 'new normal'
So how are companies and learners adapting to this new normal? Many businesses across the world are creating their own digital learning methods to upskill their employees, understand their industries and become more productive. (The Programmatic University has developed our own style of corporate training which can be seen here).
Alongside key business changes, modern working life for individuals has become even more fast paced during the COVID-19 pandemic. With the majority of the workforce working from home, it is imperative that individuals are staying on top of online learning to meet key expectations and productivity levels. However, due to virtual learning, these extra expectations are less overwhelming due to the fact that 'eLearning' requires 40% to 60% less employee time than learning the same material in a classroom setting. This is due to the learner being able to access the learning whenever they need it, and not interrupting their standard workflow.
Conclusion
From the points outlined above, it is clear that virtual learning is not only the best way to pursue education through the COVID-19 pandemic, but it is also clear that this style of learning is the future… and is here to stay!
Overall, it is becoming more and more the case that virtual training is the future and will undoubtedly replace classroom-based training due to many different factors. Within this sudden and unexpected global shift to virtual based training, many are wondering if this will persist post-pandemic. However, with online learning technologies increasing its capabilities rapidly and businesses and learners adjusting to being able to learn what they want and when they want, it is prevalent that virtual learning is the future… and is here to stay!